Stretch marks in pregnancy
Nobody likes getting stretch marks. Most of us hate them!​ ​
But during pregnancy, it's common for them to appear. The first step in preventing them is understanding how and why they happen in the first place.
WHAT ARE STRETCH MARKS?​
Stretch marks are scars. Plain and simple.​
​In the intermediate layer of skin (the dermis), collagen and elastin fibers work together to provide a mesh of structure and support. A stretch mark happens with there's a rupture of these fibers that doesn't recover. ​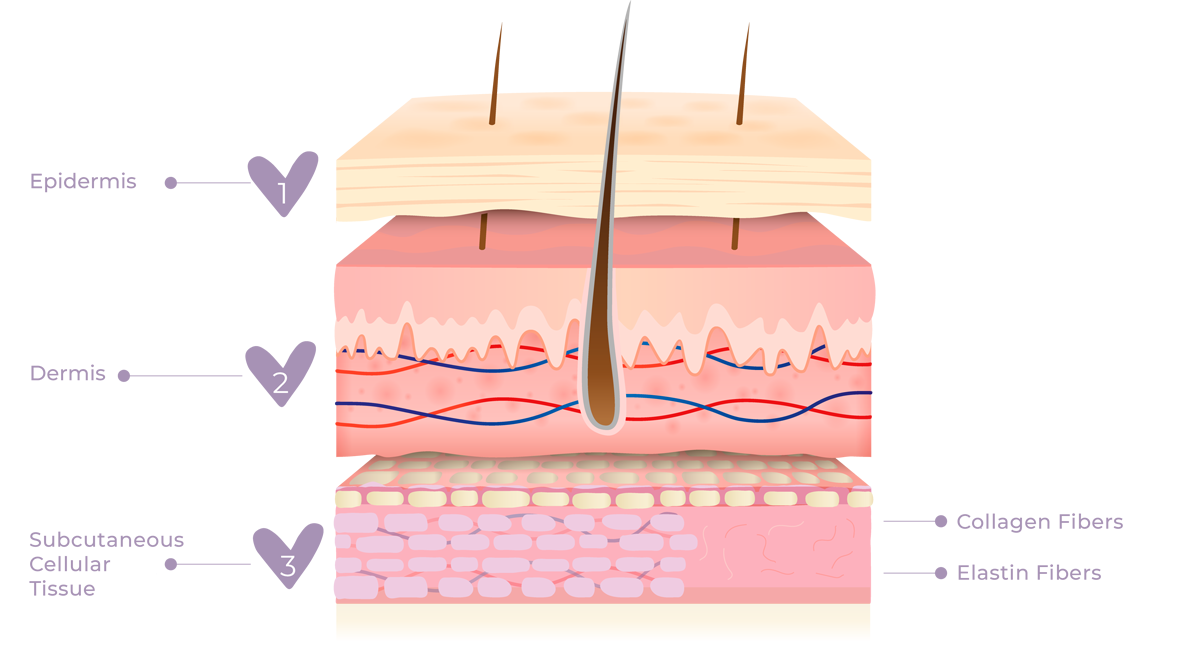 At first, stretch marks show as red or pink in color; over time they become white. Once they appear, they're permanent—they can only be faded, not completely erased. That's why it's so important to prevent them from happening in the first place. ​ ​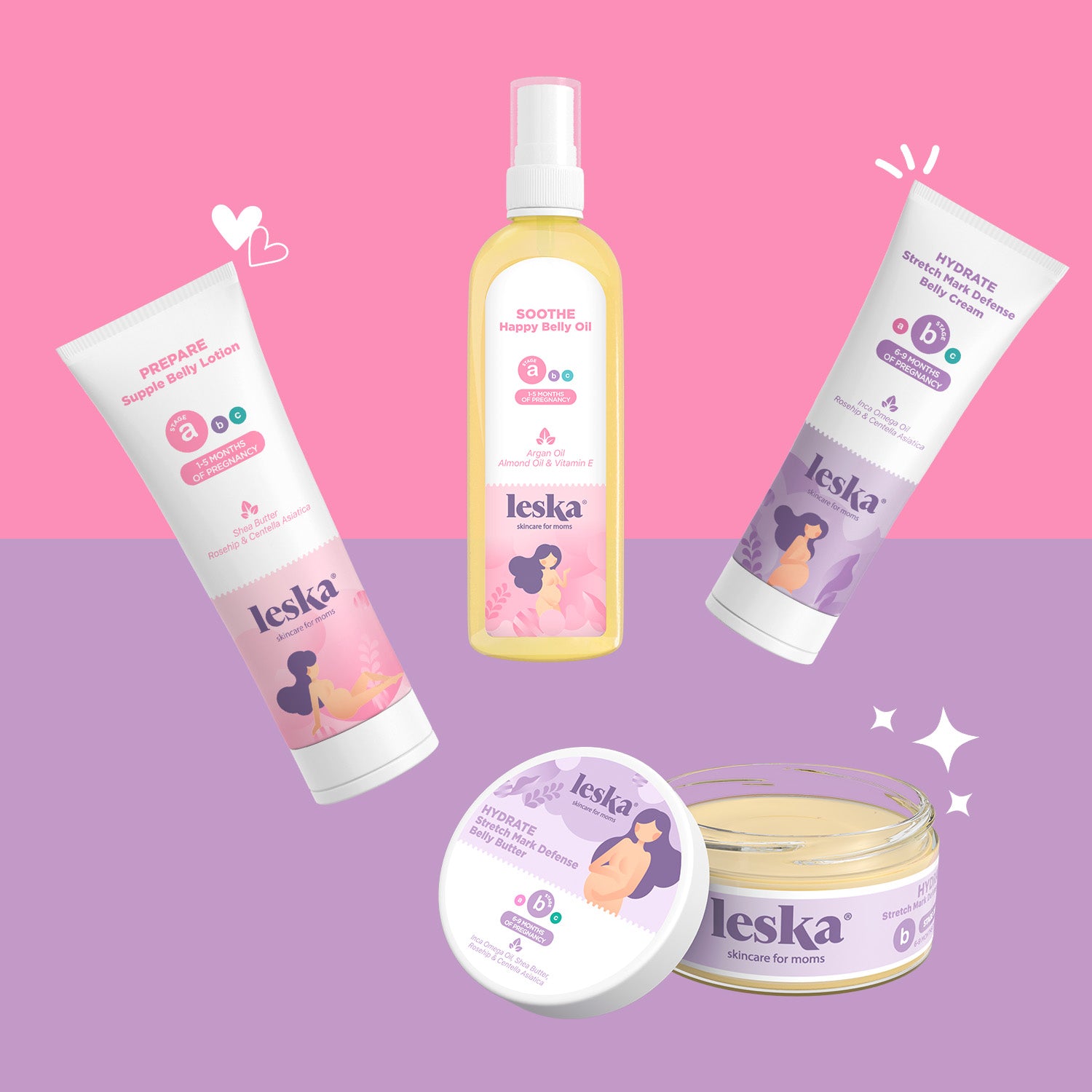 WHY DO SOME WOMEN GET STRETCH MARKS?​
Genetics and skin color are the biggest contributing factors, but diet and exercise matter, too. ​
​During pregnancy, you gain weight quickly and your skin stretches as your baby grows. If the collagen fibers are not hydrated enough, it's easier for them to "break" and create  stretch marks--on your belly, and also on other parts of the body (boobs, arms, hips, thighs, buttocks, and lower back).​
​There are other things happening in the skin that compound the effects of the stretching itself: hormonal spikes, vascular, endocrine and metabolism changes. ​
It's a lot for your body to handle!​
When you get pregnant, the hormone responsible for the formation of blood vessels increases, because you need to form the baby and the placenta. In the last trimester, estrogen and progestin levels increase​ dramatically. And after childbirth: boom! They drop abruptly.​
All these changes are reflected in your skin, nails, and even your hair.​ ​
It is no coincidence that, at the beginning of the pregnancy, the skin of future moms looks radiant, hydrated and luminous. Of course, happy emotions of having a baby on the way help, too, but a lot has to do with what's happening inside your body.​
HOW TO PREVENT STRETCH MARKS DURING PREGNANCY​
There are so many things to think about when you get pregnant, it's easy to forget about your skin. Don't make the mistake of thinking that just because you can't see your belly, you don't need to take care of it! Leska´STAGE A PREPARE with Supple Belly Lotion and Happy Belly Oil targets the changes your skin will experience in the first 5 months of your pregnancy.
WHAT TO DO WHEN STRETCH MARKS APPEAR​
The more hydrated your skin is during early pregnancy, the lower the risk of stretch marks.​
Even so, sometimes you can't fight genetics, and stretch marks still appear. The good news is that when they're still red, they can be faded and diminished with intensive moisturizing, with consistent use of Leska's STAGE B Stretch Mark Defense Cream and Stretch Mark Defense Butter.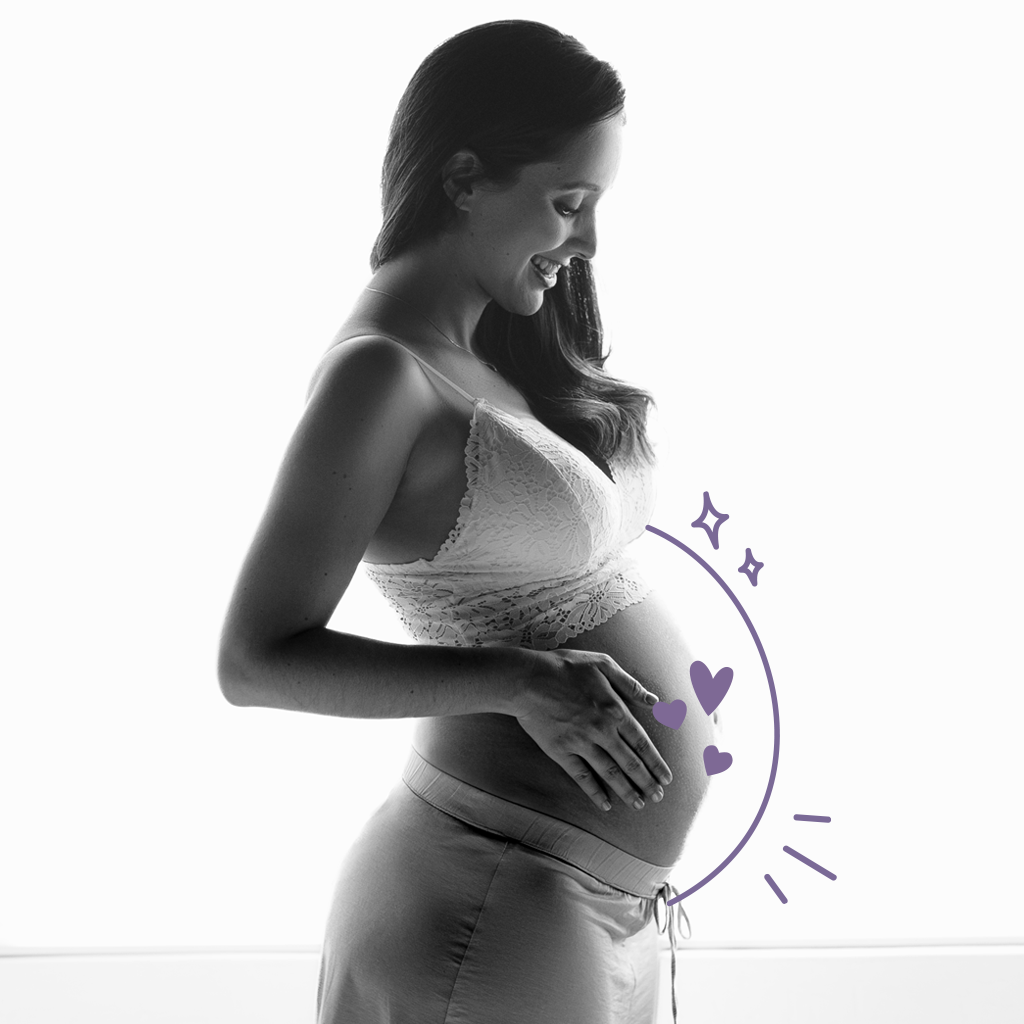 DIFFERENT CARE FOR EACH STAGE OF PREGNANCY​
In your final stages of pregnancy, your skin special protection.​
The hormone relaxin, which is released in the your last few months to facilitate childbirth, inhibits the production of collagen. ​
This is also when you gain the most weight and your belly grows this biggest. It's why Leska has formulated STAGE B creams, lotions, butters and oils that provide intensive hydration—to keep your skin strong and supported when it needs it most!
NOBODY UNDERSTANDS A MOM BETTER THAN ANOTHER MOM ​
Leska was created by moms for moms. We've lived everything you're going through: the fears, questions, uncertainty, but above all, the joy of becoming a mother.​​
We're here to support you during your great journey of becoming a mother; to help you feel as beautiful, strong, and capable as you should during this amazing experience. ​
​Happy pregnancy!